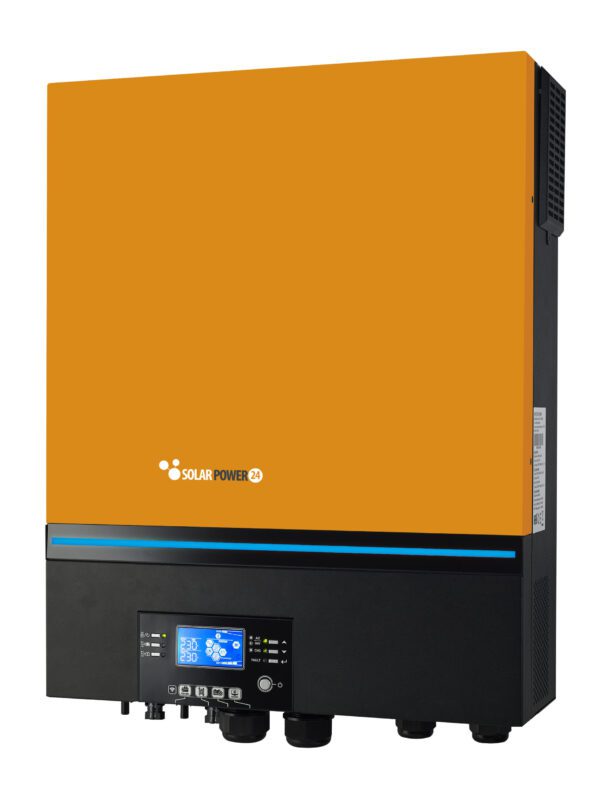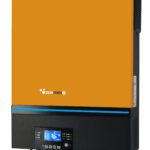 Primo Axpert MAX 3600-24 Inverter 3.6kw 24 volts
€568,70 (Tax Excl. .€517,00)
Primo Axpert MAX 3600-24 Inverter 3.6kw 24 volt off grid off grid Photovoltaic inverter for off grid hybrid systems
• Status indication with RGB lights
• Integrated Wi-Fi for mobile monitoring (Android / iOS app available)
• Supports USB On-the-Go function
• Communication port reserved for BMS (RS485, CAN-BUS or RS232)
• Replaceable fan design for ease of maintenance
• Battery independent design
• Configurable timer and priority of use of the AC / PV output
• High power selectable charging current
• Selectable input voltage range for home appliances and personal computers
• Communication with BMS battery Pylontech UP2500 / Yilink 100ah 24v
• Compatible with mains or generator input
• Built-in dustproof kit
• Optional DC output for DC fan, LED bulb, router and so on.
Description
Additional information
Description
TECHNICAL SPECIFICATIONS
Table 1 Line Mode Specifications
MODEL

3.6KW

7.2KW

8KW

Input voltage waveform

Sinusoidal (AC mains or generator)

Rated input voltage

230Vac

Low Voltage Drop

170Vac ± 7V (UPS)

90Vac ± 7V (equipment)

Low Return Voltage Drop

180Vac ± 7V (UPS);

100Vac ± 7V (Equipment)

High Voltage Drop

280Vac ± 7V

High Return Voltage Drop

270Vac ± 7V

Max voltage AC input

300Vac

Current Max. AC input

40A

60A

Rated input frequency

50Hz / 60Hz (Auto-detection)

Low Frequency Drop

40 ± 1Hz

Low Return Voltage Drop

42 ± 1Hz

High Frequency Drop

65 ± 1Hz

High Return Voltage Drop

63 ± 1Hz

Short circuit protection at the output

Line Mode: Differential

Battery mode: Electronic Circuits

Efficiency (Line Mode)

>95% (Rated load R, battery fully charged)

Transfer duration

10ms typical (UPS);

20ms typical (equipment);

Output power reduction:

If the AC input voltage is less than 170V, the output power will be reduced.
Table 2 Inverter Mode Specifications
MODEL

3.6KW

7.2KW

8 KW

Rated output power

3600W

7200W

8000W

Output voltage waveform

Pure sine wave

Output voltage regulation

230Vac ± 5%

230Vac ± 5%

Output frequency

60Hz or 50Hz

Peak efficiency

91%

93%

Overload protection

100ms @ ≥205% load; 5s @ ≥150% load; 10s @ 110 %~150% load

Overload capacity

2 * Rated power for 5 seconds

Optional 12V DC output

DC output

12 VDC ± 7%, 100W

High DC cutoff voltage

33Vdc

66Vdc

Low DC cutoff voltage

22Vdc

44Vdc

Nominal DC input voltage

24Vdc

48Vdc

Cold start voltage

23.0Vdc

46.0Vdc

Low DC alarm voltage

@ load< 20%

23.0Vdc

46.0Vdc

@ 20% ≤ load< 50%

21.4Vdc

42.8Vdc

@ load ≥ 50%

20.2Vdc

40.4Vdc

Low DC Alarm Return Voltage

@ load< 20%

24.0Vdc

48.0Vdc

@ 20% ≤ load< 50%

22.4Vdc

44.8Vdc

@ load ≥ 50%

21.2Vdc

42.4Vdc

Low DC cutoff voltage

@ load< 20%

22.0Vdc

44.0Vdc

@ 20% ≤ load< 50%

20.4Vdc

40.8Vdc

@ load ≥ 50%

19.2Vdc

38.4Vdc

High DC Recovery Voltage

32Vdc

64Vdc

High DC cutoff voltage

33Vdc

66Vdc

DC voltage accuracy

+/- 0.3V @ no load

THDV

<5% for linear load,< 10% for non-linear load @ rated voltage

DC offset

≦ 100mV
Table 3 Charge Mode Specifications
AC Grid Load Mode

MODEL

3.6KW

7.2KW

8KW

Charging current (UPS)

@ Nominal input voltage

80A

120A

Bulk Charge Voltage

Lead-acid battery

29.2Vdc

58.4Vdc

AGM / Gel battery

28.2Vdc

56.4Vdc

Charging float voltage

27Vdc

54Vdc

Overload protection

33Vdc

66Vdc

Charging algorithm

3 step

Charge curve

Solar entrance

MODEL

3.6KW

7.2KW

8KW

Nominal power

4000W

8000W

Max. PV Array Open Circuit Voltage

500Vdc

500Vdc

PV array MPPT voltage range

120Vdc ~ 450Vdc

90Vdc ~ 450Vdc

Max. Input Current

18A

18A x 2

Starting voltage

150V +/- 5Vdc

80V +/- 5Vdc

Power limitation
Table 4 General Specifications
MODEL

3.6KW

7.2KW

8KW

Safety Certification

THERE IS

Operating temperature range

-10 ° C – 50 ° C

Storage temperature

-15 ° C ~ 60 ° C

Humidity

5 – 95% relative humidity (non-condensing)

Dimensions

(P * L * H), mm

147.4x 432.5 x 553.6

Net weight, kg

14.1

18.4
Table 5 Parallel Specifications (Parallel Model Only)
| | |
| --- | --- |
| Nr. max. in parallel | 6 |
| Circulation current under no-load conditions | Max. 2A |
| Power imbalance ratio | <5% @ 100% load |
| Parallel communication | CAN |
| Transfer time in parallel mode | Max.50ms |
| Parallel Kit | YES |
Note: The parallel function will be disabled if only PV power is available
.
The product can be sold with VAT reduced to 10% exclusively to Italian residents with shipping to Italy. In the case of foreign customers, the VAT rate of their country will be applied at the time of registration
THE FORM YOU CAN FIND HERE
https://www.cercastock.it/repository/_barba_srl_dich_10.pdf
THE PRODUCT CANNOT BE SHIPPED UNTIL THE COMPLETED FORM IS RECEIVED
AT EMAIL ADDRESS moduloiva@solarpower24.it or by fax at 0545030125
Additional information
| | |
| --- | --- |
| Weight | 15 kg |
| EAN | 8050030420127 |
| Cod. Art. | IN-SP-AM36K4K-24 |