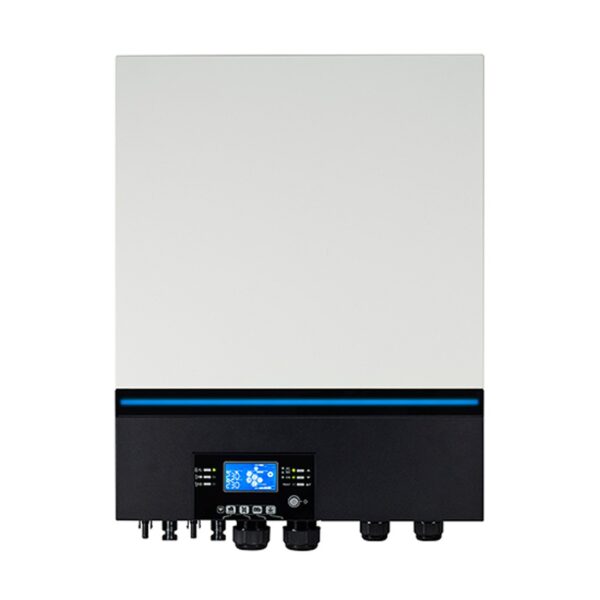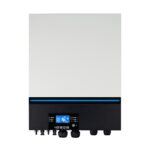 Voltronic Axpert MAX 8000-48 Inverter 8.0kw 48 volts
€1.037,30 (Tax Excl. .€943,00)
Receive in-stock notifications for this.
Description
Additional information
Description
Voltronic Axpert MAX 8000-48 Inverter 8.0kw 48 volt off grid off grid Photovoltaic inverter for off grid hybrid systems
• Status indication with RGB lights
• Integrated Wi-Fi for mobile monitoring (Android / iOS app available)
• Supports USB On-the-Go function
• Communication port reserved for BMS (RS485, CAN-BUS or RS232)
• Replaceable fan design for ease of maintenance
• Battery independent design
• Configurable timer and priority of use of the AC / PV output
• High power selectable charging current
• Selectable input voltage range for home appliances and personal computers
• Communication with BMS battery Pylontech US2000 / US3000
• Compatible with mains or generator input
• Built-in dustproof kit
• Optional DC output for DC fan, LED bulb, router and so on.
• Parallel operation with 6 units for the 7200 / 8000VA model
Axpert MAX Specification
MODEL
Axpert MAX 8000-48-230
AC power in watts
8000VA * / 8000W
Can be installed in parallel
YES, max 6 units
INPUT
Voltage
230 VAC
Voltage range
170-280 VAC (For Computers)
90-280 VAC (For Home Appliances)
Frequency
Ac output
AC Voltage Regulation (Batt. Mode)
230VAC ± 5%
Peak AC power
16000VA
Efficiency (Peak)
90% ~ 93%
Switching time
15 ms (For Personal Computers), 20 ms (For Home Appliances)
Wave type
Pure sine wave
Inverter consumption without loads
<50W
Battery
Voltage
48 VDC
Float charge voltage
54 VDC
Overload protection voltage
66 VDC
Solar Cairca and AC Charge
Solar charger type
MPPT x 2
Maximum power that can be installed on the panels
8000W
MPPT panel operating voltage
90 ~ 430 VDC
Maximum installation voltage VOC
450 VDC
Maximum solar charge current
120A
Maximum AC charging current
80A
INDICATORS
AC Mode
Battery Mode
Fault
ALARM
Low Battery
Overload
Battery Replacement
Fault
Maximum total charge current
160A
Size, weight and ports
Dimension, DXWXH (mm)
143 x 420 x 531
Net Weight (kgs)
16
Communication Interface
USB / RS232 / RS485 / Wifi / Dry-contact
OPERATING ENVIRONMENT
Humidity
5% to 95% Relative Humidity (Non-condensing)
Operating Temperature
-10 ℃ to 50 ℃
Storage Temperature
-15 ℃ to 60 ℃
STANDARD
.
.
https://www.cercastock.it/repository/_barba_srl_dich_10.pdf
.
AT EMAIL ADDRESS moduloiva@solarpower24.it or by fax at 0545030125